One of the downsides of making an important appliance purchase is the installation process. Many require professionals to install and it takes time to schedule appointments to have someone come install and set up your appliances.
With that understanding in mind, we designed our water filtration system with the focus of eliminating the dreaded installation process by making it compatible to easily connect to the saddle valve of the home water supply.
Undersink Installation: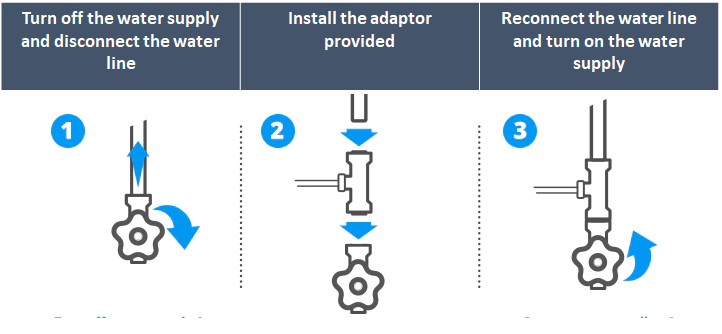 The next thing to do is to connect to the water filter and deck mount 2 in 1 faucet.


Table top installation:
Install the diverter valve to the wall or deck mount faucet and connect to the water filter
Reminder / Note:
Recommended to be used only on biologically safe water supply or with Govt/Municipal source water (For cold water use only)
Sourced water with TDS (Total Dissolved Solids) of above 500 may not be recommended due to excessive inorganic salts.
Recommended initial filtered water to let go for min 10 min/10 liters to remove any particle from the filter.
Flush for:

30 seconds when not using it for 3 days.
10 minutes when first using or replacing the cartridges

Filter should be replaced as per stated replacement period

Eco Combo Filter: 3-6 months or 1800 liters
PCB Filter 6-9 months or 3200 liters
Nano pH Filter 9-12 months or 3600 liters

If the water pressure is low, install the pressure pump with no more than Max 60psi